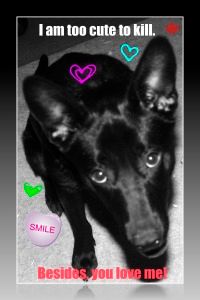 Welcome to our new award. It is the "I am too cute to kill. Besides you love me award!"
This is an award to celebrate mischief, destruction and other misbehaviour by our furry (or feathery, or scaly) friends.
The rules are simple. When you see a blog entry that you know made the owner/person/parents wishes it had been SOD (some other dog) or they had some other life, give them the award.
[Perhaps I should have called this the Misery Loves Company Award. One of the reasons my blog continued was as an outlet for Hailey's less then desirable behaviour . . .]
Now to announce the first winners.
Drum Roll Please . . .
html: <a href="http://s1181.beta.photobucket.com/user/HaileysLady/media/Iamtoocutebadge.jpg.html" target="_blank"><img src="http://i1181.photobucket.com/albums/x435/HaileysLady/Iamtoocutebadge.jpg" border="0" alt=" photo Iamtoocutebadge.jpg"/></a>
Editor's Note: Some people have said they don't like kill, so I have made another version. Use what you like:)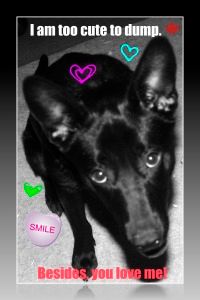 <a href="http://s1181.beta.photobucket.com/user/HaileysLady/media/badge2.jpg.html" target="_blank"><img src="http://i1181.photobucket.com/albums/x435/HaileysLady/badge2.jpg" border="0" alt=" photo badge2.jpg"/></a>